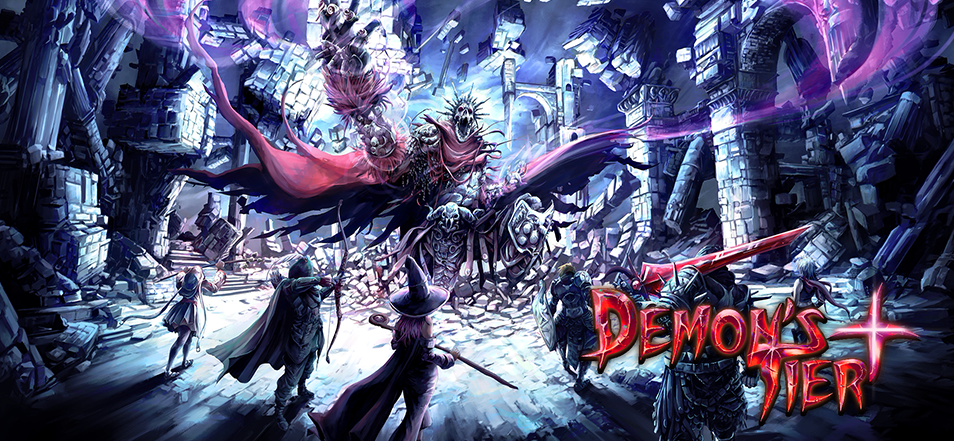 History
May 20th, 2020 - Soon on digital stores!
Demon's Tier+ will be available on June 9th on all console stores (PSN, Xbox Live and Nintendo E-shop) for 9.99 dollars/euros.

PLEASE NOTE THAT THE PLAYSTATION VITA VERSION WILL ONLY RELEASE IN USA FOR NOW.

Preorders here :
Eshop : https://www.nintendo.co.uk/Games/Nintendo-Switch-download-software/Demon-s-Tier--1778572.html
Xbox Live : https://www.microsoft.com/en-us/p/demons-tier/9mxv2s9xv8zc
---
April 20th, 2020 - PS Vita physical preorders!
Available on PlayAsia (1500 units), thanks to eastasiasoft : https://www.eastasiasoft.com/games/Demons-Tier-Plus
UPDATE : This version is now SOLD OUT!
---
April 15, 2020 - Coming Soon!
Full list of changes over PC version : /imagechanges/


---
---
Videos
Trailer YouTube
---
Animated GIFs
---
Nintendo Switch, PS4™ & Xbox One screenshots
Download all Switch, PS4™ and Xbox screenshots as .zip (32MB)
---
PlayStation®Vita screenshots
Download all PlayStation®Vita screenshots as .zip (1MB)
---
Artworks
Download all artworks as .zip (2MB)
---
Logos
Download all logos as .zip (1MB)
---
Monetization Permission
COWCAT allows for the contents of Demon's Tier+ to be published through video broadcasting services for any commercial or non-commercial purposes. Monetization of videos created containing assets from Demon's Tier+ is legally & explicitly allowed by COWCAT. This permission can be found in writing at https://www.cowcatgames.com/presskit/sheet.php?p=demon.
---
Additional Links
Notice
: Undefined variable: additionals in
/home/bretonf/cowcatgames.com/presskit/sheet.php
on line
1113
---
About COWCAT
Boilerplate
I'm a French solo developer of the game Demetrios on PC and consoles. Now publisher and porting the games "Xenon Valkyrie +" and "Riddled Corpses EX" from dev Diabolical Mind on consoles!
More information
More information on COWCAT, our logo & relevant media are available here.
---
---
presskit() by Rami Ismail (Vlambeer) - also thanks to these fine folks